The Little-Known Copywriting Tool That Will Have You Cranking Out Winning FB Ads At Keyboard-Breaking Speeds…
7-Minute Ads
Unlock the biggest time-saver in your copywriting career
What Is 7-Minute Ads?
Abraham Lincoln famously said, "Give me six hours to chop down a tree and I will spend the first four sharpening the axe."

That's because Abraham Lincoln understood the biggest task becomes easy work once you have the perfectly honed tool for the job.

So when you need to write a TON of Facebook Ads on a tight deadline that MUST perform well or you're out the door…

Or quickly dash off work samples to lock down an amazing gig before it slips through your fingers…

7-Minute Ads is the perfectly honed tool for the job.

It is a living, growing collection of proven, high-conversion Facebook Ads tested with tens of thousands of dollars each…

Transformed into simple, fill-in-the-blank templates. Templates that you can adapt to create persuasive Facebook Ads for almost any product, service or offer in a matter of minutes.
Why Grab 7-Minute Ads?
It's simple.

Time.

Grabbing 7-Minute Ads means…

❌ No more scrolling endlessly through the Ads Library for inspiration.
❌ No more digging deep through client briefs and Google to find new hooks.
❌ No more "blinking cursor syndrome", staring at the screen wishing words to appear.
❌ No more frustration from having to write the 47th ad for the same dang offer.

All of that is replaced with just copy-pasting a template into your Google Doc, filling in details about your client's offer, and you're done!
Who Is This For?
7-Minute Ads is a time-saver best suited for copywriters working at agencies or with clients that need Facebook Ads on a consistent basis.

If you spend more than 6-10 hours per week writing Facebook Ads, this will help cut that time in half. Or you can use this to double your output to make more money.

Also, if you'd like to add Facebook Ads to your copywriting services, 7-Minute Ads is a great tool to help you hit the ground running.
This Is NOT For You If…
If you work in industries not allowed to advertise on Facebook (e.g. CBD, crypto, politics, etc.), then this is not for you.

If you spend less than 4 hours a week writing Facebook Ads, then this won't be of much use to you.

And if you specialize in other forms of copy and don't do any Facebook Ad work, then you are better off looking for other resources.
Get Access To 7-Minute Ads Today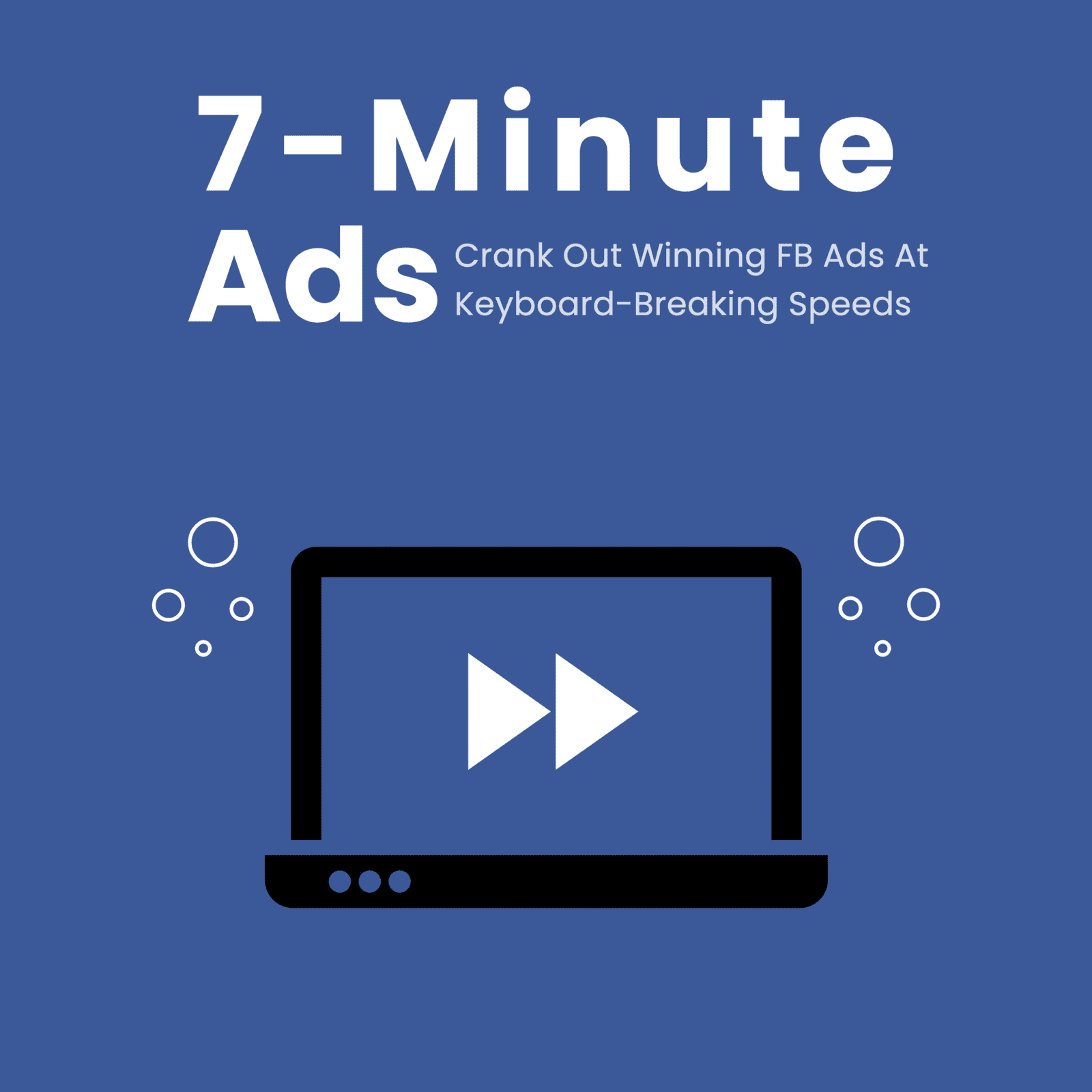 7-Minute Ads
Lifetime Access (One-Time Payment)
$47.00